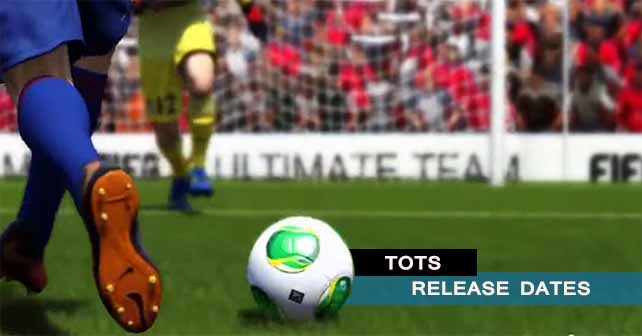 Do you want to know when each one of the Team of the Seasons will be released ? Check here all the TOTS release dates for FIFA 15 Ultimate Team.
IMPORTANT
The teams and dates of this article were not confirmed yet by EA Sports.
TOTS Release Dates for FIFA 15 Ultimate Team
Team of the Season joins the players who have played better on the whole season. Only TOTY cards are more expensive than these special blue cards. In this time of the year, thousands of players try their luck on packs, buy new teams or make a good profit.
This year, the TOTS is released later than in the previous FUT edition because there is no Men World Cup in 2015.
The first TOTS will be released at May 6th and the last one ends five to six weeks later.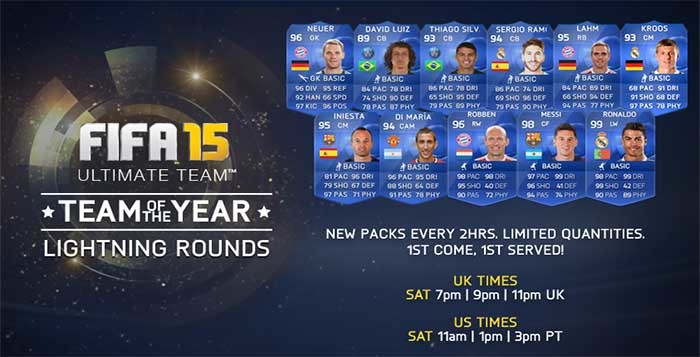 TOTY cards are the only ones that can be better than the TOTS
Here are the expected TOTS Release Dates for FIFA 15 Ultimate Team:
Gold Community Team of the Season
Available in packs: May 6th 2015 at 6pm (UK time)
Silver Community Team of the Season
Available in packs: May 6th 2015 at 6pm (UK time)
Bronze Community Team of the Season
Available in packs: May 6th 2015 at 6pm (UK time)
Barclays Team of the Season
Available in packs: May 13th 2015 at 6pm (UK time)
Football League Team of the Season
Available in packs: May 15th 2015 at 6pm (UK time)
Bundesliga Team of the Season
Available in packs: May 20th 2015 at 6pm (UK time)
Serie A Team of the Season
Available in packs: May 27th 2015 at 6pm (UK time)
Ligue 1 Team of the Season
Available in packs: May 27th 2015 at 6pm (UK time)
La Liga BBVA Team of the Season
Available in packs: June 3rd 2015 at 6pm (UK time)
Rest of the World Team of the Season
Available in packs: June 5th 2015 at 6pm (UK time)
EASFC Team of the Season
Available in packs: June 8th 2015 at 6pm (UK time)